Special Weapons and Tactics (SWAT)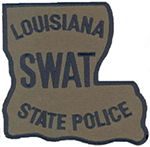 The Louisiana State Police Special Weapons and Tactics (SWAT) team is composed of three 21-member tactical Platoons and three 7-member Crisis Negotiation Squads based on geographic area. Troopers in LSP SWAT serve in addition to their regular Troop/Section assignments. LSP SWAT is responsible for responding to incidents which are beyond the capabilities of traditional law enforcement, using specialized equipment, weapons, and tactics. Such incidents include high-risk warrant service, security at high-profile public events, and resolution of hostage or barricade situations.
LSP SWAT maintains the highest level of preparedness, readiness, and response capability through extensive training, including bi-monthly platoon training, bi-monthly firearms training, monthly crisis negotiation training, and an annual joint training exercise.

LSP SWAT maintains a cadre of 12 Counter-Snipers and 12 Breachers to support tactical and crisis negotiation deployments. LSP SWAT Counter-Snipers continue to distinguish themselves as some of the most advanced law enforcement Counter-Snipers in the United States through advanced training and operational experience. LSP SWAT Breachers are at the forefront of their craft through the use of the latest techniques in mechanical and explosive breaching.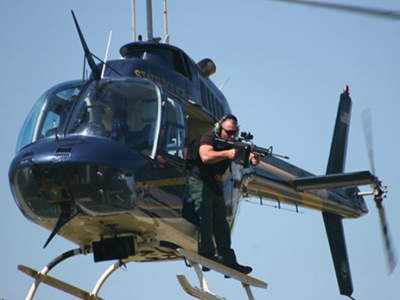 LSP SWAT continues to advance its capabilities through partnerships with other LSP Sections, such as the Air Support Unit, the Mobile Field Force, and the Emergency Services Unit.
The Air Support Unit supports LSP SWAT by providing aircraft and pilots to augment LSP SWAT's team delivery capabilities. The Air Support Unit can deliver as many as 14 LSP SWAT Operators to virtually any target, anywhere in the State of Louisiana, or offshore.
LSP SWAT and the Air Support Unit have also partnered to develop and perfect an Aerial Platform Operations program. The program enhances LSP SWAT's ability to effectively deploy Counter-Snipers in helicopters for various incidents, including armed fugitive manhunts, active shooters, and dignitary protection details.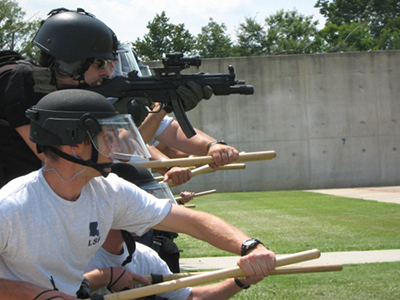 LSP SWAT provides tactical support for the LSP Mobile Field Force when deployed in a civil disturbance mission. The support includes command and control, integration into Mobile Field Force formations, escalation of force support, Counter-Sniper response, reconnaissance support, and high-risk rescue operations.
The Emergency Services Unit provides valuable resources to LSP SWAT in the form of mechanical robots allowing for enhanced safety of LSP SWAT personnel during critical incidents. The robots contribute to the LSP SWAT mission by gathering intelligence through audio and video capabilities, the delivery of items or equipment, and aide in breaching tactics. The Emergency Services Unit also supports LSP SWAT's Tactical Hazardous Materials program enabling the tactical deployment of Operators into contaminated areas for security or assault purposes.
In 2010, LSP SWAT began a collaborative partnership with the Louisiana Department of Wildlife and Fisheries (LDWF) to establish the Louisiana Maritime Special Response Team (LMSRT). LMSRT brings together the maritime expertise of the LDWF Law Enforcement Division and the tactical resources of LSP SWAT to provide a tactical response capability to maritime security threats and other tactical responses and training services with the State of Louisiana. 
LSP SWAT remains on the forefront in the tactical community by providing quality leadership, employing sound tactics and enhanced technology, and establishing new resources. LSP SWAT is proud to have active membership in the National Tactical Officer's Association (NTOA), Louisiana Tactical Police Officers' Association (LPTOA), National Council of Negotiation Associations (NCNA), and the Louisiana Association of Crisis Negotiators (LACN).