Troop G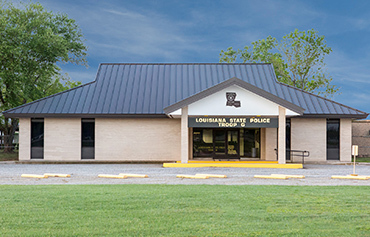 General Information
Troop G is conveniently located in Bossier Parish at the intersection of Industrial Drive and Interstate 20. Troop G encompasses seven (7) individual Louisiana parishes. The following is a list of those parishes including their corresponding square miles and highway miles. (Note: Highway miles figures include all local roads, city streets interstates, and other state-maintained roadways within that specific parish).
Troop G area by Parish

| PARISH | SQUARE MILES | HIGHWAY MILES |
| --- | --- | --- |
| Caddo | 894 | 2224.48 |
| Bossier | 845 | 1294.14 |
| Webster | 602 | 1034.67 |
| Claiborne | 765 | 1079.33 |
| Bienville | 816 | 1046.82 |
| DeSoto | 717 | 1069.38 |
| Red River | 394 | 452.78 |
| TOTAL | 5033 | 8171.60 |
If while traveling through any of the above parishes, you wish to report a crash or need emergency assistance, you may contact the local law enforcement by dialing "9-1-1" or if you have a cellular phone, you may contact Troop G by dialing *LSP (*577).
Troop G is very proud to protect and serve the citizens of Louisiana, and we enthusiastically welcome visitors to our great state. If we can assist you in any way, or if you have questions concerning Troop G, please contact our Public Information Officer at (318) 741-7411.
Services Offered at Troop G
Physical Inspections and Trailer Stamps
Trailer Stamps and Physical Inspections are conducted at Troop G during normal business hours (8 am. To 4 pm.). There is no appointment necessary. Accommodations for field inspections can be made by contacting Troop G, (318-741-7411, Ext. 8) for immovable vehicles or inspections needed outside of regular business hours.
Physical Inspections are administrative in nature, verifying vehicle identification numbers for the Office of Motor Vehicle registration process. Vehicle paperwork recommended for the inspection includes title, bill of sale, or purchase/ownership paperwork. Please allow approximately 10 to 15 minutes per vehicle inspection.
Trailer Stamps can also be obtained at Troop G during normal business hours. The homemade trailer affidavit must be filled out and notarized prior to a trailer being stamped. The affidavit can be obtained by clicking here. Homemade trailers, by definition, are trailers built by, or for, the owner from scratch. When purchasing a trailer, ensuring the trailer has a preexisting vehicle identification number or serial number and title is recommended.
Child Passenger Seat Inspections
Troop G is a designated child passenger seat fitting station, and many of our Troopers are nationally certified child passenger seat technicians.
Motor vehicle crashes are the leading killer of children in the United States. Many injuries and deaths can be prevented by properly using car seats. With four out of five seats misused, certified technicians provide a valuable service to parents and caregivers concerned with safe transport for their most precious cargo.
For more information, or to schedule an appointment for a child seat check, call:
Trooper LeAnn Hodges
(318) 741-7409
E-Mail: Leann.hodges@la.gov