Troop A History
Louisiana State Police Troop A is conveniently located in East Baton Rouge Parish at the intersection of Highland Road and Interstate 10. Troop A consists of nine individual parishes and encompasses over 6,000 highway miles. This current location was built in 1994 and is home to almost 80 Louisiana State Troopers and Department of Public Safety Employees.
Unlike most Troops across the state, Troop A has had four different locations called "home". Before the Louisiana Legislature established the Department of State Police, the State Highway Patrol established a post in downtown Baton Rouge. Once the Department of State Police was created, the state was divided into eleven police districts. District 1, which would later be named "Troop A", was located on South Foster Drive in Baton Rouge. On July 28, 1936, it began where Headquarters would eventually be located. This remained home for the next 23 years, before Troop A was relocated and built on Airline Highway in Baton Rouge in early 1960. For the next 24 years, Troopers would call this location home before the current Troop was built in 1994.
There have been 23 Troop Commanders in Troop A's 80-year history. Given its close proximity to State Police Headquarters, there has been consistent movement of Troopers and supervisors between Troop A and Headquarters through the years.
Troop A Commanders
| COMMANDER | FROM | TO |
| --- | --- | --- |
| Joe Green, Sr. | 07/28/36 | 03/15/42 |
| Robert Walker | 04/01/42 | 09/16/63 |
| Joe Green, Jr. | 09/20/63 | 06/30/69 |
| Rudolph E. Ratcliff | 07/01/69 | 02/05/73 |
| G.W. 'Bo' Garrison | 02/06/73 | 09/30/73 |
| Andrew H. Kusch | 10/01/73 | 03/27/77 |
| Wiley D. McCormick | 03/28/77 | 10/17/82 |
| Jimmy G. Day | 10/18/82 | 01/29/84 |
| James G. Mitchell | 01/30/84 | 07/12/87 |
| Paul W. Fontenot | 07/13/87 | 04/30/89 |
| Mark S. Oxley | 05/01/89 | 01/18/92 |
| Bill Spencer | 01/19/92 | 10/17/93 |
| Joe Folse | 10/18/93 | 01/29/95 |
| Ronnie Jones | 01/30/95 | 10/21/96 |
| Danny R. Baxter | 10/22/96 | 08/23/99 |
| R. Wayne Ryland | 08/24/99 | 01/03/05 |
| Aaron Chabaud | 02/15/05 | 01/02/06 |
| Brian Wynne | 01/03/06 | 02/03/08 |
| Frank Ducote | 02/04/08 | 02/13/13 |
| William Davis | 03/07/13 | 03/06/16 |
| Kirk Martin* | 01/16/14 | 04/01/14 |
| James McGuane | 03/07/16 | 01/29/17 |
| Kevin Devall | 02/06/17 | 02/05/19 |
| Greg Graphia | 02/06/19 | 07/21/21 |
| Aaron Marcelle | 07/22/21 | present |
* = Detailed Commander
Troop A Memorial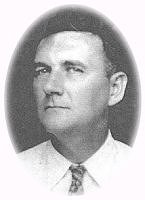 At 11:05 p.m. Trooper Finlay and Trooper Woodrow McDonald left their homes to walk to work. They were walking in the North side of U.S. 61, Jefferson Highway, in a westerly direction. At 11:15 p.m. a car driven by a white male, and occupied by several other subjects, was traveling westward at approximately 45 mph. At some point the vehicle struck Trooper Finlay, fatally injuring him. The accident occurred approximately two blocks from a nightclub where the driver of the car and its occupants had allegedly been from 9:00 p.m. in the evening. The driver of the vehicle stated that he had consumed no more than four highballs during the course of the evening. According to the driver, "I met two or three cars coming toward me in the opposite direction. I was at that time going about 30 or 35 mph. As I met these cars, a man stepped onto the pavement of the road, in the lane of traffic in which I was traveling. I first saw these men some considerable distance before I got to them, but they were at that time well out on the shoulder of the road and the thought did not occur to me that I would hit either of them as they were well out on the shoulder of the road. When I got right up to these two men, one of them stepped out into the road right in the path of my car and I could not avoid striking him. Immediately after striking this man I pulled off the road, stopped and went back to the scene of the accident." At the time of his death, Trooper Benton Finlay was 43 years old and had been a Trooper for only two months.
---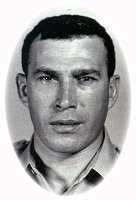 On March 24, 1958, at approximately 8:35 p.m., Trooper Francis C. Zinna was killed manning a roadblock in West Baton Rouge Parish. This incident started when a West Baton Rouge Parish Sheriff's unit was passed by a speeding vehicle on LA 1. The deputies pursued the vehicle at speeds in excess of 100 mph. State Police learned of the pursuit and dispatched units to assist the Sheriff's Office. A State Police unit set up a roadblock on the east side of the Mississippi River Bridge in an attempt to stop the vehicle. Apparently, the driver of the fleeing vehicle saw the roadblock and turned back west onto U.S. 190. Trooper Zinna and his riding partner set up a roadblock on U.S. 190 about one and one-half miles west of the Mississippi River Bridge. According to Trooper Zinna's riding partner, they had stepped out of their unit and were standing on neutral ground, with Trooper Zinna holding a flare. The fleeing vehicle was estimated to have been traveling over 100 mph as it approached the roadblock. As the vehicle approached Trooper Zinna, the driver apparently applied his brakes and the vehicle skidded to the side. The right rear of the fleeing vehicle struck Trooper Zinna. He was knocked 83 yards by the force of the impact. Trooper Zinna was transported to the Baton Rouge General Hospital where he was pronounced dead on arrival. The driver of the fleeing vehicle was charged with Negligent Homicide. On October 9, 1958, the subject was tried in the Eighteenth Judicial District Court and sentenced to three years at Angola State Penitentiary. The subject, however, only served time from October 10, 1958, until October 10, 1959. He was then put on two years of supervised parole. At the time of his death, Trooper Francis C. Zinna was 33 years old and had been a Trooper for two years, six months, and twenty-three days.
---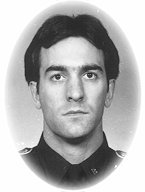 On the morning of July 21, 1982, Trooper Damon L. Robichaux had been recalled for duty to provide an escort. While leaving his home his revolver fell to the floor, discharging and striking him in the chest. He died approximately two hours later while undergoing surgery.
At the time of his death, Trooper Damon L. Robichaux was 30 years old and had been a Trooper for four years, nine months, and five days.