21st Century Policing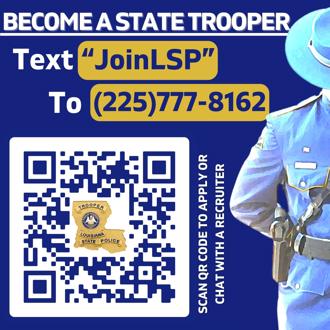 Trust is a critical element between law enforcement agencies and the communities they serve in a democracy. It is vital for maintaining stability in Louisiana's various communities, preserving the integrity of the criminal justice system, and delivering safe and effective policing services. President Barack Obama established the Task Force on 21st Century Policing on Dec. 18, 2014, recognizing the importance of this issue. The task force was tasked with identifying best practices and providing recommendations to improve policing practices, reduce crime effectively, and build public trust. The Louisiana State Police (LSP) continually reviews these recommendations and aligns its practices with the best practices outlined in the report released by the task force. These recommendations are categorized into six pillars. Click on each pillar below to see our ongoing efforts to align our organization to 21st Century Policing practices.
Six Pillars
Pillar 1 — Building Trust and Legitimacy
Pillar 2 — Policy and Oversight
Pillar 3 — Technology and Social Media
Pillar 4 — Community Policing and Crime Reduction
Pillar 5 — Officer Training and Education
Pillar 6 — Officer Safety and Wellness
Click on the pillars below to learn more and to see how Louisiana State Police is working to improve and achieve each of them.
---
Pillar 1: Building Trust and Legitimacy
The cornerstone of the relationship between the Louisiana State Police and the citizens of Louisiana is trust and legitimacy. We understand that people are more likely to comply with the law when they perceive those enforcing it to have legitimate authority. Therefore, we have adopted procedural justice as a guiding principle and are working tirelessly to establish a culture of transparency and accountability to build trust and legitimacy within our agency and with the public.
Here are some ways we are working to build trust and legitimacy:
LSP has implemented an online form for the public to submit complaints and commendations.
LSP policies prioritize trust and legitimacy by emphasizing the sanctity of life and careful consideration of use-of-force tactics, which are further reinforced through training and reporting.
All troopers receive training on procedural justice and bias awareness.
LSP has established a Professional Standards and Compliance Unit, which is dedicated to enhancing public trust and the quality of service to the citizens of Louisiana.
LSP participates in various community programs such as Shop with a Cop, Sudden Impact, and Child Safety Seat campaigns.
We have redesigned our website to make it more welcoming to the public. We have also increased the amount of information that is readily available for public viewing.
LSP Policy No. 1502 outlines the process for members of the public to request records. Our website also allows members of the public to get in direct contact with the top supervisors of our public affairs department to request information.
We are revamping the way our cadets are trained to put a heavier focus on the importance of positive public relationships, procedural justice, and officer wellness.

Pillar 2: Policy and Oversight
Pillar two emphasizes the importance of law enforcement agencies collaborating with community members to develop policies and strategies that reflect community values, especially in communities disproportionately affected by crime. LSP is continually reviewing and revising policies to appropriately cover the use of force, mass demonstrations, consent before searches, gender identification, racial profiling, and performance measures. Additionally, we are committed to making policies publicly available to ensure transparency.
Here are some ways we are working to improve our policies and accountability:
LSP has made its policies available for public viewing on our website.
LSP is continually rewriting existing policies and adopting new policies to ensure alignment with best practices.
The Use of Force policy of LSP has been revised to prioritize de-escalation techniques and sound judgment that values human life. Furthermore, restrictions have been imposed on the types of force that officers can employ, and intervention is now mandatory in case of any inappropriate use of force.
LSP has established a Force Investigative Unit (FIU) to investigate and track all use of force incidents. The FIU must also report all aspects of an employee's involvement in use-of-force incidents.
We will continue to work closely with various stakeholders to ensure that our policies are responsive to the needs and concerns of the citizens of Louisiana.

Pillar 3: Technology and Social Media
Pillar three focuses on the implementation, use, and evaluation of technology and social media. The use of technology can be a game-changer for law enforcement, improving practices and building trust with the community. However, it's crucial to have a well-defined policy framework in place, with clear goals and purposes, before implementing any new technology. We are continually evaluating new technologies and using a systematic process to implement the ones we feel will pave the way for the future of our organization.
Here are some ways we are working to improve our daily operations by harnessing the power of technology and social media:
LSP has moved to an electronic citation system to allow for a better collection of data that can be used in decision-making and policy revisions.
To increase transparency and accountability in policing, LSP also employs body-worn cameras and squad cameras. These cameras serve multiple purposes, including protecting civil rights, gathering evidence, and improving report writing accuracy.
LSP recognizes the importance of social media in engaging with the public and has a strong presence on all major platforms, including Facebook, Twitter, Instagram, and YouTube. Members of the public can easily contact LSP through the messaging features on these platforms.
LSP has made it easy for the public to submit commendations or complaints via our website. This ensures that feedback is received and addressed in a timely and efficient manner.
LSP has launched Mark43, a comprehensive software system that collects, manages, analyzes, and shares information related to public safety. This system enables us to track our interactions with the public and use the data collected to improve our overall effectiveness.

Pillar 4: Community Policing and Crime Reduction
The fourth pillar emphasizes the significance of community policing as a fundamental principle for all parties involved. LSP is working to partner with residents to co-create a safer environment. Plans are being developed to collaborate with community members to recognize issues and work together to find effective solutions.
Here are some ways we are working with the community to make Louisiana a safer place to live and visit:
To get to know the community, troopers are encouraged to visit schools, daycares, businesses, neighborhoods, and parks during their shifts and interact with the public. By engaging with residents in a non-threatening manner, troopers can gain valuable insights into the concerns and needs of the citizens of Louisiana.
LSP collaborates with University Medical Center to support the Sudden Impact Program for high schools across the state. The program raises awareness of the dangers of driving while impaired and stresses the importance of wearing a seatbelt. We believe that education is key to preventing accidents and saving lives.
The LSP website has a portal for citizens to report suspicious activity. This portal allows us to gather valuable information and investigate potential threats more effectively.
In addition to seeking out ways to engage the community, LSP continually honors presentation requests from school and community groups.
Our Special Victims Unit (SVU) is highly engaged in the community, frequently delivering presentations to schools, churches, other law enforcement agencies, and various interest groups on the topics of human trafficking and online child endangerment threats. Recently, the legislature has assigned them the responsibility of investigating all Department of Children and Family Services (DCFS) complaints related to human trafficking. 
The fourth pillar represents a significant shift in how we approach our role in society. By evaluating more ways to prioritize community policing and collaboration, LSP is working to create a safer environment for everyone. 
Pillar 5: Officer Training and Education
The fifth pillar emphasizes the education and training requirements of law enforcement. We recognize that the quality and efficacy of our training programs are critical to ensuring that our officers are equipped to serve and protect our communities. LSP will involve subject matter experts from various communities and our organization in the training process. Furthermore, we will expand the quantity and quality of leadership training opportunities available to ensure we are employing a team of highly skilled leaders with relevant knowledge and a keen understanding of the issues facing Louisiana.  Here are some of the measures we are taking to ensure the quality of our training and education programs.
Here are some ways we are setting a high standard for training our troopers:
The Louisiana State Police Training Academy (LSPTA) boasts an exceptional training program that aims to mold cadets into self-disciplined, vocationally competent, mentally mature, physically sound, emotionally stable, and community leaders. The program is designed to be rigorous, with cadets undergoing a demanding course of study that includes classroom work, independent assignments, and practical hands-on training.
LSPTA exceeds Peace Officer Standards and Training (POST) requirements by several hours, demonstrating a commitment to excellence in trooper training.
Troopers are held to the highest standards and required to successfully complete a rigorous field officer training (FTO) program following the 6-month residential training academy. The FTO program includes a minimum of six weeks of supervised patrol, ensuring that our officers are well-prepared to handle any situation they may encounter.
We are committed to continuously improving our hiring and promotion processes to ensure that we are recruiting and retaining a highly skilled and diverse force of troopers and leaders. We have established a committee to evaluate and revise these processes. Our aim is to ensure that every member of our team is committed to serving Louisiana with the utmost integrity and professionalism.
To further support our commitment to leadership development, we have implemented the LSP Leadership Development Program. This program is mandatory for all commissioned personnel who wish to be eligible for promotion to the ranks of sergeant, lieutenant, or captain. These courses provide future leaders with the skills and knowledge they need to effectively carry out their duties and responsibilities at each level of supervision.
By prioritizing education and training, we are confident that we are building a strong and effective law enforcement team that is equipped to serve and protect Louisiana with valor and impartiality.

Pillar 6: Officer Wellness and Safety
The sixth pillar emphasizes the critical importance of promoting and implementing officer wellness and safety. This is not only for the well-being of troopers but also for the safety of the public. Achieving this goal requires collaboration among stakeholders, and the Louisiana State Police has taken several measures to support its troopers.
Here are some of the steps we are taking to promote and ensure trooper wellness:
The Trooper Employee Assistance Program (TEAP) is a vital resource that provides necessary assistance to employees in need. Additionally, each troop has a network of PEER support volunteers who have completed two trainings - CISM (Critical Incident Stress Management) and ASIST (Applied Suicide Intervention Skills Training). These volunteers are available to provide support and guidance to their fellow troopers.
To further enhance the physical, emotional, and mental health of troopers, the LSP has made Cordico, a wellness app, available to all troopers. This app is designed to provide troopers with the tools they need to maintain their overall well-being.
The LSP's chaplaincy program is also available to department members in need of support. This program provides troopers with a confidential and safe space to discuss any personal or professional issues they may be facing with a chaplain.
Every troop has a gym available for troopers to maintain their physical fitness. This is an essential component of officer wellness, as physical fitness is critical to the performance of law enforcement duties.

LSP is committed to promoting and implementing officer wellness and safety. By providing troopers with the necessary resources and support; the LSP will continually evaluate ways troopers are supported to ensure they are equipped to perform their duties safely and effectively.