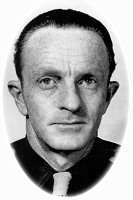 On Saturday, November 10, 1956, Trooper Wilmer L. Moody was killed, and another trooper was injured in a four-vehicle collision on U.S. 61.
At approximately 3:10 p.m., Trooper Moody, who was a passenger in Unit B-12, was headed North on U.S. 61 in the inside lane of traffic. The state unit was traveling approximately 50 mph with red lights and siren activated. The accident occurred when a truck carrying a load of tires struck the rear of a large dump truck southbound on U.S. 61. This collision caused the dump truck to veer into the northbound lane of travel, striking the State Police vehicle head-on. The State Police vehicle then veered into the outside lane of northbound traffic striking another vehicle. Trooper Moody was pronounced dead on arrival at the Foundation Hospital. The other trooper, and driver of Unit B-12, was admitted to Foundation Hospital where he was treated for severe facial lacerations, a fractured right knee, and shock. The driver of the truck that caused the collision was charged with Negligent Homicide and tried in the Twenty-Fourth Judicial District Court. On January 29, 1958, the court returned a verdict of NOT GUILTY.
At the time of his death, Trooper Wilmer L. Moody was 40 years old and had been a Trooper for five years, two months, and twenty-five days.