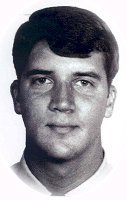 On Thursday, July 19, 1973, at 2:00 a.m. Trooper William C. Warrington was killed in a one car accident that occurred in East Baton Rouge Parish.
According to reports, Trooper Warrington was traveling west on I-12 near O'Neal lane, returning to Headquarters from a narcotics investigation. According to witness statements and physical evidence, Trooper Warrington was apparently attempting to pass another vehicle. At some point he lost control of his vehicle and traveled across the median into the eastbound traffic lane, striking an embankment. His vehicle then went airborne, landing on the south side of the eastbound traffic lanes. At some point Trooper Warrington was thrown from his vehicle and then rolled over by the unit. Trooper Warrington died at the scene from massive chest injuries.
At the time of his death, Trooper William C. Warrington had been a Trooper for three years, ten months and nineteen days.