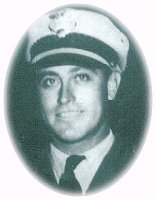 On Wednesday afternoon, May 13, 1936, Patrolman Victor A. Mossy was killed in a collision with a truck near Norco, Louisiana.
Patrolman Mossy was on duty with a fellow motorcycle officer traveling south on Airline Highway, when a large truck, traveling northbound, suddenly swerved toward the left. The truck lost control and veered into the southbound lane. Both officers attempted to avoid the collision by taking evasive action. Patrolman Mossy, however, was struck by the out-of-control truck which ultimately plunged over a highway embankment into a deep ditch.
At the time of his death, Patrolman Victor A. Mossy was 25 years old, and had been employed by the Louisiana Highway Patrol for five years, two months, and twelve days. He was survived by his wife and one child.