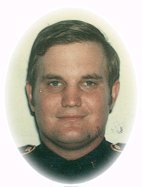 On May 29, 1995, at approximately 9:40 a.m., Master Trooper Stephen H. Gray was killed in a two-vehicle accident in Calcasieu Parish while responding to a traffic crash.
Master Trooper Gray had been dispatched to investigate an auto accident near Bell City, in southeast Calcasieu Parish. While traveling to the scene on LA 14, approximately 15 miles southeast of Lake Charles, Louisiana, he lost control of his vehicle in a heavy rainstorm, crossing into the opposing lane. His vehicle was struck broadside by an oncoming vehicle. Master Trooper Gray died of massive head and internal injuries sustained in the accident.
At the time of his death, Master Trooper Stephen H. Gray was 41 years old and had been a Trooper for fifteen years.