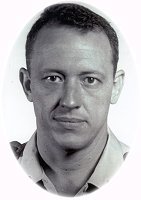 On September 8, 1962, at 2:10 a.m., Trooper Rudolph H. Miller was struck and killed by a vehicle on U.S. 51 in Tangipahoa Parish.
Trooper Miller and his riding partner were working the northern end of the parish. There had been complaints of reckless driving on U.S. 51 near this area. According to Trooper Miller's riding partner, about two and one-half miles north of the Kentwood city limits they met a pick-up truck traveling with only one headlight. They turned around and eventually caught up to the vehicle, pulling it over onto the west-side shoulder. The driver and one occupant from the pick-up were asked to get out. Trooper Miller, the two occupants of the truck, and his riding partner were standing in front of the patrol car. Trooper Miller's riding partner began to issue the driver a violation ticket. Trooper Miller then suddenly ran across the highway headed east. According to his riding partner, he heard Trooper Miller shout "Pull it off on the shoulder." The riding partner started over to assist Trooper Miller, who had pulled over a pulpwood truck traveling with no lights. The riding partner then noticed another vehicle also traveling north. He began shouting "Look out, Miller," and jumped back against the patrol car. The vehicle's driver realized that he had no time to stop, so he swerved onto the east shoulder, losing control and leaving the pavement. Attempting to move out of the way, Trooper Miller ran to the east shoulder in front of the pulpwood truck. Just as Trooper Miller cleared the right side of the truck, the out-of-control car struck him on his right side. It was allegedly very foggy at the time of this accident.
The driver of the car was charged with negligent homicide due to evidence that he did not have his vehicle under control and that he was traveling at an unsafe speed for prevailing conditions. The driver of the pulpwood truck was charged with operating a vehicle while Under the Influence of alcohol, Simple Escape (due to his fleeing while Trooper Miller was being treated), and negligent homicide due to the fact that the accident was a result of a chain of events set in motion by the pulpwood truck being operated without lights. Court records for this case do not show any dispositions.
At the time of his death, Trooper Rudolph H. Miller was 35 years old and had been a Trooper for eleven months and twenty-six days.