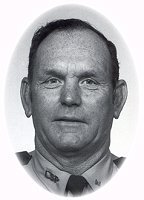 On Tuesday, April 17, 1973, Sgt. Lamon Weaver was killed in a one car accident on Louisiana Highway 1 in Rapides Parish.
According to reports, at 5:45 p.m. Sgt. Weaver was traveling West on LA 1 when he passed a speeding auto. It is believed that he turned around and headed East with the intention of stopping the speeding car. Approximately three minutes later, Sgt. Weaver was fatally injured in a crash. A statement was taken from a motorist who was westbound on LA 1 moments prior to the accident. According to this statement, the motorist was passed by a blue vehicle that was also traveling westbound on LA 1. The blue car was blowing its horn, running off the road, and driving in a reckless manner. It is the opinion of the investigating officer that Sgt. Weaver was either forced off the roadway by the blue vehicle or lost control of his unit while pursuing the reckless driver. At the time of the accident, it was raining, and the roadway was slippery. Physical evidence at the scene indicates that Sgt. Weaver's vehicle ran off the right side of the roadway, striking the Gene Bayou Bridge. The end of the guard rail struck the right front door of the vehicle broadside, knocking the door off its hinges and traveling through the front seat area of the vehicle. Sgt. Weaver was forced against the door on the driver's side, which was also knocked off as a result of the crash. The guard rail was extended out of the door on the driver's side fourteen inches. Approximately four hours after the accident Sgt. Weaver died as a result of injuries sustained in the crash.
At the time of his death, Sgt. Lamon Weaver was 51 years old and had been with the State Police for eighteen years, nine months, and fourteen days.