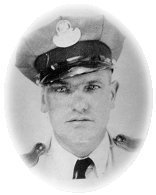 On May 8, 1943, at approximately 10:10 a.m., Trooper James T. Brownfield collided with a stray cow while patrolling on his motorcycle. The accident occurred on U.S. 171 approximately two miles north of Converse, LA.
According to the investigating trooper, the cow was apparently feeding on the side of the road when the motorcycle approached, causing her to become excited and jump in front of the motorcycle. Evidence revealed that brakes were applied for six feet prior to the point of impact. The cow was struck five feet from the west edge of the road. Approximately three minutes after the accident, Mr. Willard R. Russell and Mr. T. J. Juneau arrived at the scene and observed that the trooper was seriously injured. They immediately transported Trooper Brownfield to the Converse Hospital. Trooper Brownfield died the following day, Sunday, May 9, 1943, from injuries sustained in the accident.
At the time of his death, Trooper James T. Brownfield was 35 years old and had been a Trooper for six years, eleven months, and eight days.