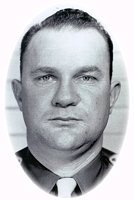 On Tuesday, November 20, 1956, Trooper James N. Pollard was struck by a car and killed on U.S. 71 north of Montgomery, Louisiana.
Reports indicate that Trooper Pollard had stopped a northbound tandem truck for a traffic violation. As the driver of the vehicle pulled off the highway, his vehicle became bogged down in a ditch. Trooper Pollard then stopped another northbound tandem rig for the purpose of pulling the stalled vehicle back onto the highway. Trooper Pollard then walked to the center of the highway to direct traffic while the bogged vehicle was pulled out. According to witnesses, Trooper Pollard had parked his state unit on the shoulder of the roadway behind the two trucks and had activated his red lights. Trooper Pollard was allegedly standing six inches from the centerline in the northbound lane of travel when he was struck by a southbound vehicle. Trooper Pollard was knocked 36 feet from the point of impact and died at the scene. The driver of the southbound vehicle was charged with negligent homicide, but the charges were later dismissed.
At the time of his death, Trooper James N. Pollard was 37 years old and had been a Trooper for seven years and five days.