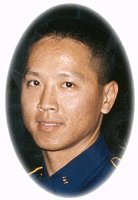 On June 30, 1998, Trooper Hung N. Le died from injuries sustained in a traffic crash that occurred on May 19, 1998, in Tangipahoa Parish.
Trooper Le was working a construction zone on I-55 between Ponchatoula and Manchac, Louisiana. Trooper Le was inside his vehicle in the right northbound lane, with his emergency lights activated. He was diverting traffic as road crews re-striped the lanes and picked up traffic cones. At 4:15 p.m. a van traveling in the right lane failed to merge into the left lane and struck Le's unit from behind. The impact pushed his car into a construction truck and immediately caused it to burst into flames. Construction workers and a passerby pulled Le from the burning wreckage and extinguished his body, which was on fire. Trooper Le suffered third-degree burns over 70 percent of his body in addition to severe damage to his heart and lungs. On June 30, 1998, at 2:18 a.m., at the Hermann Hospital Burn Unit in Houston, TX, Trooper Le died from injuries sustained in the crash. The driver of the van was charged with negligent homicide, negligent injury, careless operation, and violating a driver's license restriction requiring him to wear glasses.
At the time of his death, Trooper Hung N. Le was 29 years old and had been a Trooper for one year, four months, and twenty-two days.