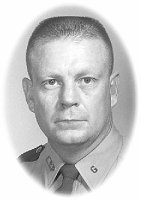 During the late hours of October 30, 1968, Trooper Huey P. Grace died as a result of a traffic accident while pursuing a speeding vehicle.
At approximately 12:17 a.m., on I-20, Trooper Grace began to pursue three vehicles that were suspected of drag racing. One was a Camaro, one was a 1960 Chevrolet, and the other was a Chevy II. When the three vehicles reached the Flournoy-Lucas U.S. 80 exit, they turned off with Trooper Grace close behind. The vehicles then apparently went separate ways, with Trooper Grace following the Chevy II. The driver of the Chevy II refused to stop and attempted to outrun Trooper Grace. The Chevy II turned south onto Flournoy-Lucas Road then south on Woodworth Road. The pursuit continued for approximately six or seven miles, ending with both vehicles crashing near a narrow bridge.
The Chevy II, traveling at an estimated speed of 120 mph, ran off of the roadway and struck the bridge, knocking down the entire railing on the left side. It traveled across the bridge, down into a ditch, and through a barbed wire fence. The vehicle then came to rest after striking a tree. Seconds later, Trooper Grace crossed the same bridge. Two hundred forty feet south of the bridge, and directly opposite where the Chevy II came to rest, Trooper Grace applied his brakes causing the rear of the patrol car to skid sideways to the left. As it skidded sideways it went off the right side of the roadway into a ditch. It then turned over on its left side, skidded backwards for some distance and flipped over on its top. Trooper Grace was killed instantly as his head and shoulders were pinned between the top of the patrol car and the ground. Shortly after the accident, the occupants of the other two cars that had been traveling with the Chevy II arrived at the scene. These men and other people at the scene lifted the overturned vehicle and pulled Trooper Grace's body clear of the wreckage. The driver of the Chevy II was charged with negligent homicide and reckless operation of a vehicle. On February 14, 1969, in the First Judicial District of Caddo Parish, the charges were Nolle Pross.
At the time of his death, Trooper Huey P. Grace was 36 years old and had been a Trooper for five years, one month and twenty-six days.