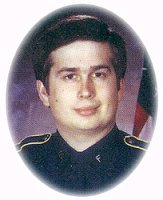 On November 17, 1997, at 7:22 p.m., Sergeant George "Doug" Johnston was killed in a one vehicle accident in Ouachita Parish.
Sgt. Johnston was returning from a meeting with an informant where he had been gathering information for an investigation. He was traveling north on LA 139, approximately nine miles north of Monroe, Louisiana, when he failed to negotiate a sharp left curve. His vehicle ran off the right side of the road, crossed the roadway after overcorrecting, and then struck a ditch and several trees. Sgt. Johnston died of massive head and internal injuries sustained in the accident.
At the time of his death, Sgt. George "Doug" Johnston was 39 years old and had been with the State Police for sixteen years.