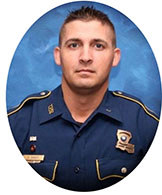 On May 24, 2020, Trooper George Baker succumbed to injuries he sustained in motor vehicle crash in Tangipahoa Parish.
On May 20, 2020, Trooper Baker was assisting a local law enforcement agency that was in pursuit of a suspect vehicle. Tire deflation devices were requested in an effort to end the pursuit. Trooper Baker deployed the device, and the suspect vehicle impacted the deflation device and continued traveling. While Trooper Baker was attempting to retrieve the deflation device from the roadway, he was struck by a law enforcement vehicle that was in the pursuit. Trooper Baker was transported to North Oaks Hospital in critical condition. During the four days following the crash, medical staff from North Oaks and experts in the field worked tirelessly to lessen the injury Trooper Baker sustained.
In his last act of Selfless Service, Trooper George Baker donated his organs through LOPA in order to provide life to others in need. Trooper Baker was 33 years old at the time of his death and had been a Trooper for 2 years, 4 months and 19 days.