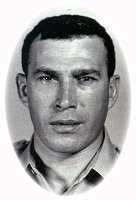 On March 24, 1958, at approximately 8:35 p.m., Trooper Francis C. Zinna was killed manning a roadblock in West Baton Rouge Parish.
This incident started when a West Baton Rouge Parish Sheriff's unit was passed by a speeding vehicle on LA 1. The deputies pursued the vehicle at speeds in excess of 100 mph. State Police learned of the pursuit and dispatched units to assist the Sheriff's Office. A State Police unit set up a roadblock on the east side of the Mississippi River Bridge in an attempt to stop the vehicle. Apparently, the driver of the fleeing vehicle saw the roadblock and turned back west onto U.S. 190. Trooper Zinna and his riding partner set up a roadblock on U.S. 190 about one and one-half miles west of the Mississippi River Bridge. According to Trooper Zinna's riding partner, they had stepped out of their unit and were standing on neutral ground, with Trooper Zinna holding a flare. The fleeing vehicle was estimated to have been traveling over 100 mph as it approached the roadblock. As the vehicle approached Trooper Zinna, the driver apparently applied his brakes and the vehicle skidded to the side. The right rear of the fleeing vehicle struck Trooper Zinna. He was knocked 83 yards by the force of the impact. Trooper Zinna was transported to the Baton Rouge General Hospital where he was pronounced dead on arrival. The driver of the fleeing vehicle was charged with Negligent Homicide. On October 9, 1958, the subject was tried in the Eighteenth Judicial District Court and sentenced to three years at Angola State Penitentiary. The subject, however, only served time from October 10, 1958, until October 10, 1959. He was then put on two years of supervised parole.
At the time of his death, Trooper Francis C. Zinna was 33 years old and had been a Trooper for two years, six months, and twenty-three days.