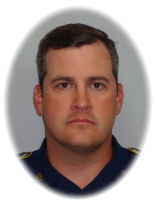 On January 12, 2010, Senior Trooper Duane Dalton was killed in a two-vehicle crash in Calcasieu Parish.
Senior Trooper Dalton was driving his State Police unit south on US 171 approaching Gloria Lane near the community of Moss Bluff. At approximately 7:30 pm a vehicle traveling east on Gloria Lane entered US 171 into the path of Trooper Dalton's vehicle. The front of the vehicle struck the right side of Trooper Dalton's unit. After impact, Trooper Dalton's unit rotated clockwise, entered a ditch, and struck a culvert on the driver's side. Trooper Dalton was transported to Lake Charles Memorial Hospital. He was pronounced dead upon arrival at the hospital.
At the time of his death, Senior Trooper Duane Dalton was 38 years old and had been a Trooper for fourteen years, one month, and nine days.