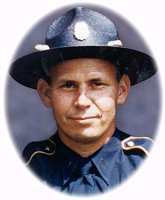 On July 2, 1977, at 5:45 a.m., Trooper Donald C. Cleveland was shot and killed in the line of duty.
Trooper Cleveland stopped a vehicle on LA 94 for a lighting violation. The vehicle had just pulled out of a lounge parking lot when the stop was made. As the stop was being made, the driver and passenger changed places. While the "new driver," actually the passenger, walked to the rear of the vehicle, the other party exited the vehicle and fired 4 shots at the trooper striking him in the jaw and once in the chest. Trooper Cleveland died in a ditch on the side of the road with his revolver in his hand unfired. His unit was parked on the shoulder of the roadway with its red lights on. Two subjects were arrested in connection with the shooting. One was charged with First Degree Murder and the other was charged with accessory after the fact.
At the time of his death, Trooper Donald C. Cleveland was 25 years old and had been a Trooper for one year, one month, and two days.