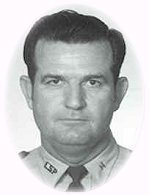 On Thursday, December 4, 1975, just twelve minutes before completing another tour of duty, Sgt. Clarence J. Miller was killed in a two-car collision on U.S. 171 in Sabine Parish.
At approximately 2:30 p.m. Sgt. Miller had stopped and picked up a person needing a ride. According to a statement from Sgt. Miller's passenger, they were driving north at approximately 50 mph, talking about CB radios and the short time Sgt. Miller had remaining before his retirement. Suddenly the passenger heard Sgt. Miller exclaim, "Oh, my God," and saw a green vehicle headed towards them in the northbound lane. The driver of this green vehicle was traveling southbound at a high rate of speed, apparently drag racing with another vehicle, and lost control, veering into the northbound lanes.
Statements indicate that just prior to the collision, Sgt. Miller was following a sheriff's unit also northbound on US 171. The following excerpt from the accident report indicates what actually took place: "The Volkswagen (witness vehicle) was southbound in the right lane traveling approximately 45 mph. A black vehicle and a green vehicle were traveling at a high rate of speed southbound with the black vehicle in the left lane and the green car in the right lane. As they approached the Volkswagen, the black vehicle pulled ahead, and the green car swerved left and fell in behind the black car in the left southbound lane. This location is uphill and just one tenth of a mile south of Many, LA., which means the vehicles had just left a 45-mph speed zone. As the green vehicle fell in behind the black car, the driver of the black car spotted the sheriff's unit immediately ahead of the state unit. The driver of the black car instinctively hit his brakes. The green vehicle was following so closely behind the black vehicle in the left lane that he didn't have time to stop, and he couldn't swerve right because of the witness vehicle that was in the right southbound lane. The driver of the green car then swerved left and applied his brakes, skidding to the left of the black car and into the path of the state unit." Sgt. Miller was killed instantly. The driver of the green vehicle was charged with negligent homicide and reckless operation of a motor vehicle. He was tried on November 17, 1976, in the Eleventh Judicial District Court. The subject was found guilty and sentenced to three years at hard labor, with the time being suspended. The subject also received a conditional five-year supervised probation period. The conditions consisted of one year in the parish jail, and a five-year suspension of driving privileges.
At the time of his death, Sgt. Clarence J. Miller was 47 years old and had been with the State Police for twenty-four years, one month, and fourteen days.