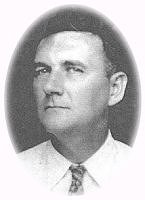 On Sunday, April 19, 1942, Trooper Benton Finlay was struck and killed by a passing motorist.
At 11:05 p.m. Trooper Finlay and Trooper Woodrow McDonald left their homes to walk to work. They were walking in the North side of U.S. 61, Jefferson Highway, in a westerly direction. At 11:15 p.m. a car driven by a white male, and occupied by several other subjects, was traveling westward at approximately 45 mph. At some point the vehicle struck Trooper Finlay, fatally injuring him. The accident occurred approximately two blocks from a nightclub where the driver of the car and its occupants had allegedly been from 9:00 p.m. in the evening. The driver of the vehicle stated that he had consumed no more than four highballs during the course of the evening. According to the driver, "I met two or three cars coming toward me in the opposite direction. I was at that time going about 30 or 35 mph. As I met these cars, a man stepped onto the pavement of the road, in the lane of traffic in which I was traveling. I first saw these men some considerable distance before I got to them, but they were at that time well out on the shoulder of the road and the thought did not occur to me that I would hit either of them as they were well out on the shoulder of the road. When I got right up to these two men, one of them stepped out into the road right in the path of my car and I could not avoid striking him. Immediately after striking this man, I pulled off the road, stopped and went back to the scene of the accident."
At the time of his death, Trooper Benton Finlay was 43 years old and had been a Trooper for only two months.