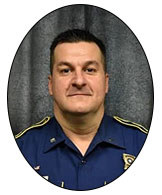 On October 9,2021, Master Trooper Adam Gaubert succumbed to gunshot wounds sustained in an ambush attack.
The attack occurred as Master Trooper Gaubert sat in his fully marked patrol unit in Ascension Parish. The ambush of Master Trooper Gaubert occurred in close proximity to an earlier shooting that took place in the overnight hours of October 9, 2021. The suspect in the ambush attack was a person of interest in multiple shooting incidents in several parishes. Following the shootings, the suspect was involved in a pursuit where he fired a weapon at the pursuing State Trooper. The Trooper exchanged gunfire with the suspect during the incident and was not injured. A manhunt for the suspect ensued, where the Louisiana State Police in conjunction with multiple Federal, State, and Local Agencies worked together to apprehend the suspect. During the evening hours of October 9, 2021, the suspect was located and taken into custody without incident.
Master Trooper Gaubert was 47 years old at the time of his death. He began his career with the Louisiana State Police after graduating from the State Police Academy on December 21, 2002. Master Trooper Gaubert had been a Louisiana State Trooper for 19 years.