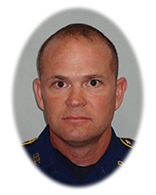 On August 24, 2015, Senior Trooper Steven J. Vincent succumbed to injuries sustained in a shooting incident while attempting to assist a vehicle in a ditch.
Troopers' preliminary investigation indicated the incident took place shortly before 3:00 pm on Sunday, August 23, 2015, as Trooper Vincent arrived at the scene of a Dodge pickup truck in a ditch near the intersection of LA Hwy 14 and Fruge Road in Calcasieu Parish. Upon arrival, Trooper Vincent verified the truck as matching the description of a previously reported reckless vehicle and made contact with the driver. During the course of the interaction, the driver produced a shotgun and fired at Trooper Vincent striking him in the head. As he attempted to flee the scene, several passing motorists successfully detained the suspect while others began to render aid to Trooper Vincent while calling for emergency assistance. Responding Troopers, law enforcement, and medical personnel from the area arrived at the scene shortly thereafter placing the suspect into custody and transporting Trooper Vincent via Acadian Air Med to Lake Charles Memorial Hospital. Despite valiant efforts by medical staff at Lake Charles Memorial Hospital and prayers from throughout the country, Trooper Vincent lost his battle and succumbed to his injuries the following morning.
Senior Trooper Vincent was 44 years old and had served as a Louisiana State Trooper in the Troop D region for 12 years at the time of his death.