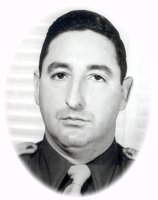 On Friday, February 23, 1968, at 9:58 a.m., Lt. Joseph D. Ferris died as a result of a two-car accident on LA 749 north of Opelousas, Louisiana.
Reports indicate that Lt. Ferris was traveling north on LA 749. His vehicle apparently went out of control on the icy roadway surface and slid into the opposing lane of travel. Lt. Ferris' vehicle was struck by a vehicle traveling in the southbound lane. Lt. Ferris was transported to the ER of Opelousas General Hospital. According to initial doctor's reports, Lt. Ferris was in a state of coma, non-responsive, with marked respiratory distress. He was bleeding profusely from the nose and ears, indicating a severe head injury. Intensive emergency care was given for a period of several hours. X-rays failed to show a definite fracture. The initial shock was counteracted with blood transfusions and Lt. Ferris' vital signs eventually stabilized. He was admitted to the hospital and observation was continued with the assistance of private duty nurses. Late on the evening of the hospital admission date, there was a change in his physical findings, suggesting an increase in inter-cranial pressure. It was decided that Lt. Ferris needed immediate surgery. Unfortunately, just before the surgical procedure, Lt. Ferris died despite numerous attempts at resuscitation. An autopsy was performed by the coroner with cause of death listed as "basal skull fracture."
At the time of his death, Lt. Joseph D. Ferris was 40 years old and had been with the State Police for seventeen years, eight months and twenty-five days.